Streamlining Compliance with the FTC Safeguards Rule: A Game Changer for North Carolina Businesses
Embracing the New Era of Cybersecurity Regulation
Starting June 9th, 2023, a new wave of cybersecurity regulation swept across the United States, altering the course of data protection norms. The FTC Safeguards Rule took effect, heralding a transformative era for organizations nationwide. Especially for businesses throughout North Carolina, this new legislation has initiated a reevaluation of cybersecurity practices and protocols, thus redefining the way they protect consumers' information.
As your trusted partner, Progressive Computer Systems will guide you through the shifting sands of compliance with the FTC Safeguards Rule. From businesses in bustling Raleigh/Durham to the academically charged Chapel Hill areas, we ensure that meeting these standards doesn't drain your resources or cause unnecessary stress.
With our consulting and cybersecurity services expertise, Progressive Computer Systems has established itself as the beacon that illuminates your path toward compliance. We believe in empowering you, negating your need to bear the cost and challenges of employing full-time cybersecurity staff.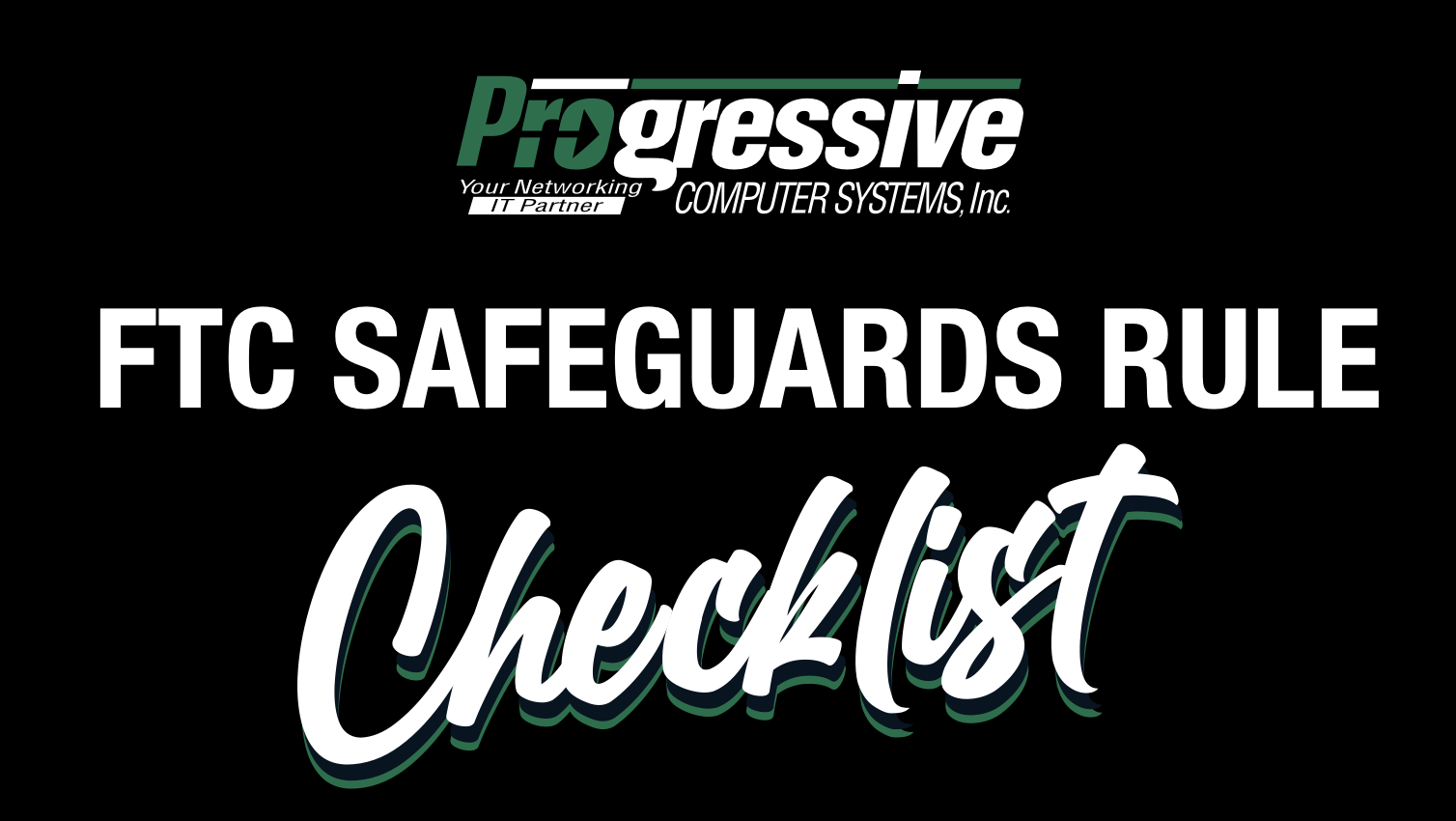 Ensuring Compliance with Tailored Safeguard Rule Services
Our customizable Safeguards Rule services leverage our industry knowledge and expertise. Our mission is to design, implement, and manage an information security program, ensuring your organization complies with the Safeguards Rule.
We stand by you, serving as seasoned professionals committed to minimizing your cyber risk while ensuring your organization meets all FTC Safeguards Rule requirements.
The Three-Step Compliance Strategy: Identify, Mitigate, Manage
Identify - Risk Assessment
The journey to compliance begins with a thorough risk assessment. By analyzing your existing information security maturity, we identify the gaps and vulnerabilities that could expose your organization to unnecessary risks related to FTC Safeguards Rule compliance.
Mitigate - Design and Implementation
Following the identification process, we enter the mitigation stage. Here, we tap into the depth and breadth of our experience to design and implement an information security program. This program is aligned with your compliance objectives and is specifically structured to minimize risk.
Manage - Program Management
After the design and implementation phase, our role transitions to managing the ongoing Safeguards Rule requirements. We utilize our expertise and cutting-edge technology to stay ahead of the ever-evolving compliance landscape.
Customizable Services to Meet Your Unique Business Needs
At Progressive Computer Systems, we understand that businesses have varying needs, budgets, and cybersecurity maturity levels. Therefore, we've designed our Safeguards Rule services to meet all rule elements and can be tailored to suit your business. Whether a small startup or a large enterprise, you can customize a program focusing on the services most critical to your operations.
Conclusion: Charting Your Path Towards Compliance
The FTC Safeguards Rule is more than just a legislative requirement; it's a stepping-stone toward achieving a robust, secure digital infrastructure for businesses across North Carolina. Progressive Computer Systems is committed to walking this path alongside you, providing comprehensive services that ensure your compliance with the Safeguards Rule and your peace of mind.
Download Our Free Complimentary Checklist
Through a combination of risk assessment, mitigation strategies, and program management, we offer a streamlined approach to compliance tailored to meet the unique needs of your business. By partnering with us, you can focus on your core business operations while we ensure your cybersecurity measures are up to par with the FTC Safeguards Rule.