Microsoft 365 For Business vs. Enterprise: A Comprehensive Overview
In the realm of productivity tools, Microsoft 365 has carved out a niche for itself, becoming a trusted platform for businesses around the globe. Particularly significant is its proficiency in a BYOD – or "bring your own device" – setting. Whether you're teaming up from different corners of your office or joining forces from opposite ends, Microsoft 365 ensures that everyone remains in sync and that productivity is maintained.
Your challenge? Deciding between the two core options: Microsoft 365 for Business and Microsoft 365 for Enterprise.
Though they both fall under the Microsoft 365 umbrella, these two variants cater to distinct requirements and boast unique features, pricing models, and support provisions. Let's delve deeper into these nuances so that you can make an informed decision tailored to your organization's specific needs.
Did You Realize That Cloud Integration Is the New Norm?
Recent studies have revealed a staggering statistic: over 92% of modern companies integrate cloud-based services to enhance productivity, safeguard against threats, and facilitate seamless online data transfer.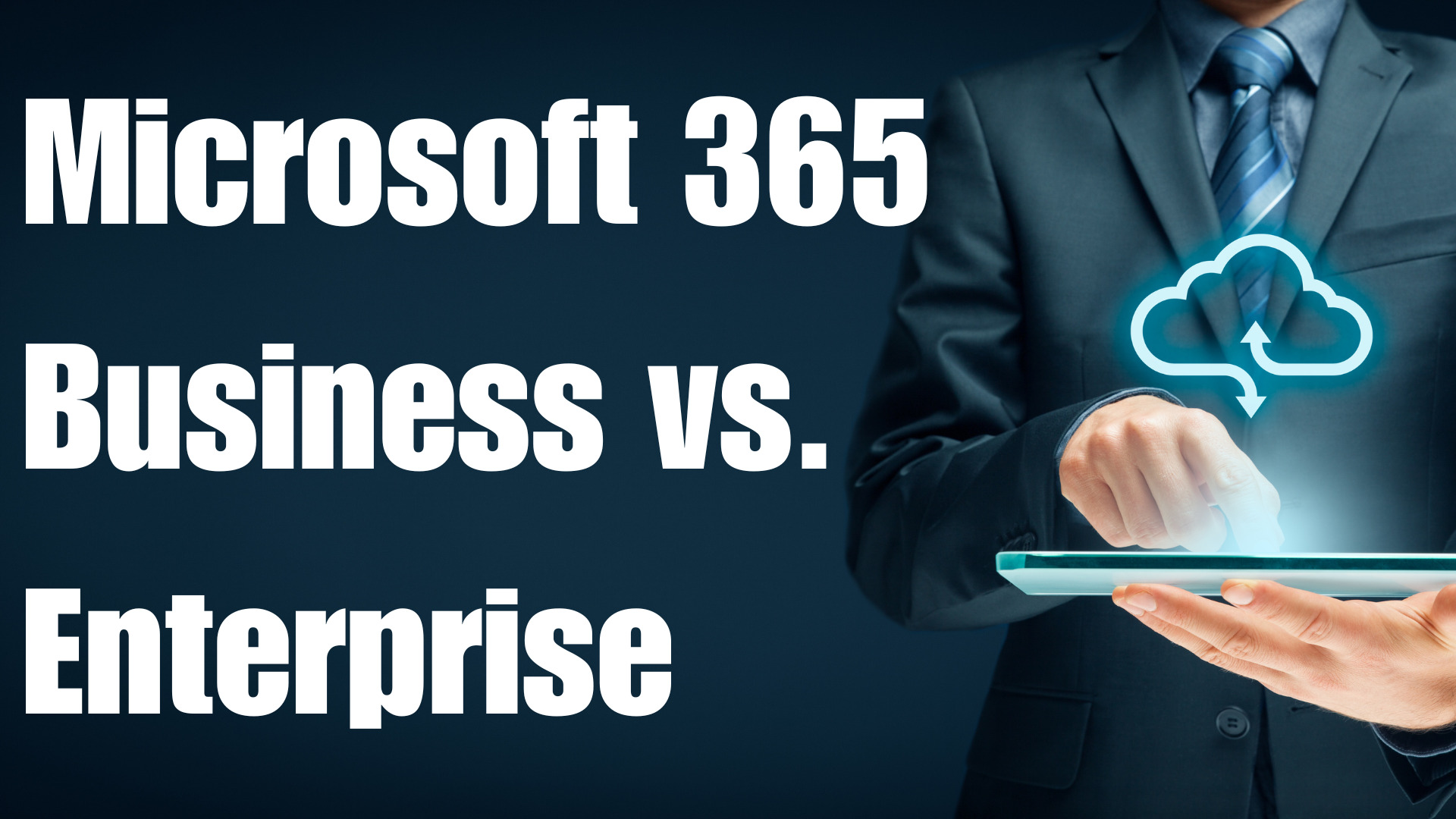 Comparing Microsoft 365 Business and Enterprise Plans
Selecting the perfect version, be it Microsoft 365 Business or Enterprise, demands a meticulous analysis of their differences.
Microsoft 365 for Business caters to small to medium-sized businesses and supports up to 300 users. It encompasses pivotal tools such as:
Microsoft Word, Excel, PowerPoint, and OneNote
Microsoft Outlook for emails and scheduling
Microsoft Teams is perfect for chatting, meetings, and collaborations
SharePoint for adept document management and specialized collaboration plans
OneDrive, the trusted cloud storage solution loved by a huge chunk of Fortune 500 companies
Along with all these, Microsoft 365 for Business brings advanced threat analytics, device management, and data protection features to the table.
Contrastingly, the Enterprise edition is tailored for larger organizations with intricate demands. Beyond offering all that Business does, it adds:
Power BI, an essential tool for data analytics and visualization
Power Apps, allowing businesses to design their proprietary apps
A seamless integration with Dynamics 365 for top-notch Customer Relationship Management (CRM)
Enterprise Mobility + Security, ensuring advanced security and comprehensive data/device management
Moreover, Microsoft 365 Enterprise boasts specialized features aiding in compliance and data governance like eDiscovery, archiving, and legal hold.
How Do Their Pricing Models Stack Up?
Cost is always a pivotal determinant. Microsoft 365 Business offers three distinct plans (pricing is USD):
Business Basic: Priced at $6/user/month, it encompasses web and mobile app versions, email hosting, and OneDrive storage.
Business Standard: At $12.50/user/month, you get everything in the Basic plan plus desktop app versions, Teams, and SharePoint.
Business Premium: Priced at $22/user/month, it offers all the Standard features plus advanced security and device management tools.
Conversely, Microsoft 365 Enterprise has two versions: E3 and E5.
Microsoft 365 E3: At $36/user/month, it offers everything in Microsoft 365 for Business plus additional features like Power BI, Power Apps, Dynamics 365 integration, and enhanced security.
Microsoft 365 E5: Priced at $57/user/month, it includes everything in E3 and also offers advanced analytics, voice capabilities, and more security features.
When comparing costs, it's clear that the Enterprise plans are pricier than Business ones, but they compensate with an expanded feature set catering to bigger enterprises.
Support and Service Level Agreements (SLAs)
Support can be a deal-breaker for many. Microsoft 365 Business promises a 99.9% uptime and offers standard support options. Additional support can be availed for a fee.
Conversely, Microsoft 365 Enterprise guarantees the same 99.9% uptime but sweetens the deal with 24/7 phone support for critical issues and grants access to a dedicated support team. Moreover, they offer a financially backed service level agreement for select services, which means that if they fall short of the SLA, you might qualify for a service credit ranging from 25% to 100% of the monthly fees.
So, Which One Is Right For You?
The selection boils down to your organization's unique needs. While there are distinctions in the features, pricing, and SLAs of both Microsoft 365 Business and Enterprise, your goal should be to pick a solution that aligns perfectly with your operations.